This week's post is written by our Guest Bloggers, Belinda Owen and Debbie Littlewood, Library Officers from CSU Wagga Campus.
Belinda and Debbie have recently attended the ALIA National Library and Information Technicians' Symposium in beautiful Hobart, where they presented their paper 'Charles Sturt University – "Anywhere, Anytime"'.
Belinda has been employed as a Library Officer at CSU Library since 2014. She has previously worked in public libraries, and completed a Diploma in Library Information Services in 2011.
Debbie has been employed at CSU Library since 2005, first starting as a Library Assistant on the circulation desk. In 2007 she was appointed the Library Officer position in Information Services.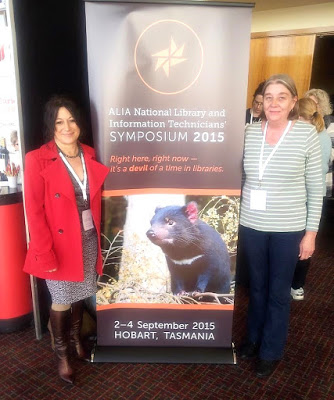 From L-R: CSU Library Officers Belinda Owen and Debbie Littlewood
Presenting was certainly a very challenging but rewarding experience for us both with a lot of interest shown in our topic. The paper focused on recent changes in CSU library staff roles to address the decline in the use of the library's physical environment and to accommodate an increased demand for virtual services, often by library users who are challenged by changing technology.


This was a perfect opportunity to network with other technicians and learn how their libraries have made changes to adapt to new technologies and trends. It was also interesting to talk to fellow colleagues and hear how they are managing services very similar to ours.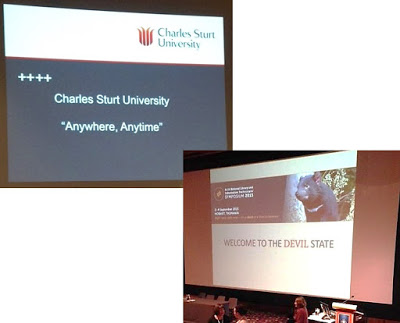 Belinda and Debbie give their presentation
The theme of the symposium was the Tasmanian Devil and a fun time was had by all at the 'Dance with the Devil' themed dinner on the Thursday night. We also had a visit from the 'Devil' himself! This was also a 'Save the Devil Foundation' fundraiser night with money being raised to support research into a devastating disease that is threatening the survival of this unique marsupial.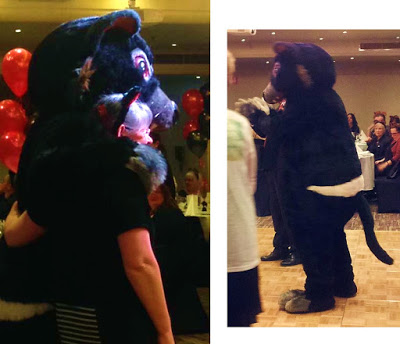 The Tasmanian Devil Mascot joins in the fun!
And, let's not forget the beautiful views of the harbour!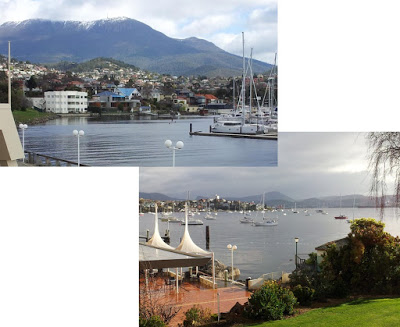 Thanks Belinda and Debbie, it looks like you had a fantastic time! It is so important to take an opportunity like this to connect with like-minded colleagues from around the country and share ideas and experiences.