Meet Christine!
Christine has joined the CSU Library team at Bathurst Campus Library for a two week professional placement, a requirement for her Graduate Diploma (Information Science) studies with Edith Cowan University.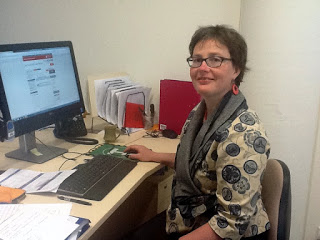 How did you choose CSU for your professional experience placement?
I chose CSU as I have an interest in working in academic libraries. I approached one of the Information Librarians about opportunities to receive work training with CSU Bathurst Library. When I began 'Information Services Management', I made inquiries about the placement program.

What are the highlights of the placement so far?
Highlights have been involvement in the project to order books for Port Macquarie Library Opening Day collection. Also, sitting in on a videoconference gave me insight into how important communication is across a multi-campus library. The discussion of budgets, processes and workflows increased my understanding of the daily running of a library.
Will the placement influence your future professional direction?
The experience definitely will influence my future professional development. It has clarified my interest in academic libraries.

What will that be?
Data Research Officer is a position which interests me with the option to focus on academic libraries. I like the idea of working with data sets and accessibility, or working with collections.
I am only one week in and am yet to find out what the Information team does. I am keen to see how librarians liaise with academics to provide information resources for students.
CSU Information Studies students arranging their Professional Experience placement can find more information in their subject outlines and on the Professional Experience website.