CSU Librarians are known for their knowledge, problem solving skills and willingness to tackle any anything, no matter how big or small so it was no surprise when recently all of their skills were tested in CSU's Amazing Race.
Students and staff from Bathurst Campus, were set an amazing challenge; to form teams, raise $5,000 in donations for Daffodil Cottage (an oncology/palliative care and treatment facility in the grounds of Bathurst Base Hospital) and to compete against each other in a series of "physical, mental but not emotional" contests over two afternoons.
All of this for the honour of being awarded the beautifully handcrafted, inaugural CSU's Amazing Race Trophy, plus a range of other terrific prizes from race sponsors.
Crouching Frog, Hidden Librarian team
The Library's team consisted of five keen volunteers: Annette and Claudio (Faculty Liaison), Yasmine (Access Services) and Karthik and Andrew (Collection Services). Each member bought their own special powers of campus geography, team motivation, creative thinking, superior dexterity and Dewey mastership to create a formidable team which came within a whisker of taking out both major categories.
CSU's Amazing Race also included contests within the Bathurst campus Library which pitted team against team in an exciting time challenge to locate various items on the shelves, decipher cryptic clues and sort 20 books into strict Dewey order.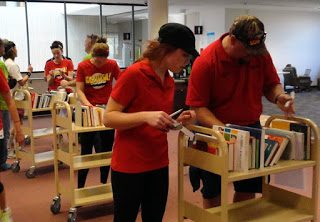 Teams hard at work with their Dewey contest
At the end of the final contest, the points were tallied and all donations counted with the winners announced in a grand ceremony, which included the playing of bag-pipes by Senior Lecturer Dr Donald Alexander!
Highest Donations: Creative Comm-rades $1023.00
Most Race Points: The Terrific Teachers 1270
Creative Comm-rades (left) and Terrific Teachers (right) with Doug Kinlyside of Daffodil Cottage and CSU's Amazing Race Trophy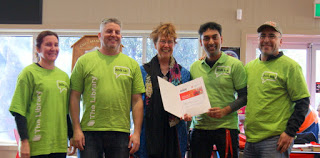 The Librarians with Head of Campus, Professor Jo-Anne Reid
The Crouching Frogs, Hidden Librarians came out with a gallant second in the two major categories of donations and race points. Even though they vowed to improve for next year's event, we are very proud of them and they thoroughly deserve their prize for being the "Super Staff Team"!
A great big
Thank You
to all our generous supporters who helped the team raise an astounding $1004 which contributed to a grand total of $8684.30, all going toward the great work of Daffodil Cottage.
You can see all the team results at
CSU's Amazing Race Leaderboard
.