Fancy yourself as a professional writer, poet or playwright? Or maybe you are looking for quality literature to read, or purchase for your library shelves.
One way to get published, get your work recognised or to ensure your library collection reflects quality literature is to be aware of the many international and local literary competitions.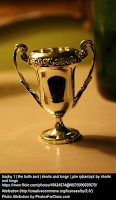 It's not easy to find one complete list of all the competitions, awards and prizes available. Some competitions are fleeting or intermittent, others may be hard to keep track of if the name depends on sponsorship rights e.g. Orange Prize for Fiction is now known as the Baileys Women's Prize for Fiction.
Some awards are judged by a panel of experts and some are won by popular choice. Actor Dan Stevens, who played Matthew Crawley in the television series Downton Abbey, was a judge for the 2012 Man Booker Prize. By the way, Hilary Manton's, Bring up the bodies won that year.
Dr Mark Macleod, CSU's senior lecturer in English in the School of Humanities and Social Sciences, is on the 2015 Prime Minister's Literary Awards judging panel. The winners are due to be announced soon.
The State Library of Victoria's young adult literature awards, called the Inky Awards, are nominated, selected and voted on by readers.
Knowing about prize winning books can also help you with selections for reading programs or book clubs.
And for the artistic, there are competitions for designing bookplates, The Australian Bookplate Design Award, entries close soon for the 2015 awards. Bookplates are the small label which are usually pasted into a book, often on the inside front cover, to indicate the book's owner.
Did you know there are societies for collecting and designing bookplates!
Your pick of award winning literature
At Charles Sturt University Library we are currently reviewing which literary award/prize winners to add to our collections and we would like your opinion.
You can add a comment to this post or you can submit a suggestion online telling us which Australian or International award/prize winning books you would like to see in the collection.
Finding award winning literature
Here are a selection of links to find award winning literature:
Miles Franklin Literary Award – Australia's most prestigious literary award
Pulitzer Prize for Fiction (2016 is it's 100th year anniversary)
Nobel Prize in Literature 1901-2014
Children's Book of the year award winners – Children's Book Council of Australia
The CILIP Carnegie medal (writing) and the Kate Greenaway medal (illustration) for children and young people, awarded by children's librarians
Australian Literary Awards – Wikipedia
Literary Awards From Around the World – Note that Wikipedia says this list is not complete.
Competitions for writers
For budding writers, try these links to find literary competitions:
Australian Writers' Resource – writing competitions
Fellowship of Australian Writers NSW Inc – writing competitions
Here are some great tips for entering writing competitions from Madeleine Dore from the ArtsHub.
Library Help for Students of Literature
The following Library Resource Guides, created by CSU Librarians, will help you navigate your way around the world of literature and the writing process:
Literature, Children's Literature and Creative Writing.