Need something different to do that doesn't involve study? Come into your campus library* and check out the following:
Sound recordings – ok, a few of these are aimed at children's education (along the lines of Kids songs from around the world) but if you are feeling retro we have quite a comprehensive collection of music records pre 1980 in a variety of genres including folk, jazz, 'rock' and classical. Most of these recordings are in the Wagga and Bathurst libraries. You can listen to them in library, or take home to listen, but you'll need a record player.
Novels – still haven't read A Game of Thrones series by George R.R. Martin or The narrow road to the deep north by Richard Flanagan? We've got copies of both best sellers, plus many others. Have a browse through Primo Search or through the English literature sections in the library to see what you can find.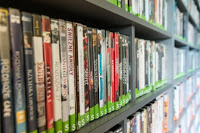 Newspapers – we have all the local newspapers delivered daily in the library
Movies on DVD – lots and lots of Hollywood blockbusters, Australian productions and more
Movies and tv shows streamed over the internet through Informit EduTV. Latest shows and movies include The Chaser's Media Circus, Science of Stupid, Nigella Express, Dallas Buyers Club, Unbreakable and many, many more.
Musical scores – most of the major classical pieces are in the library
Card games and puzzles (probably more for the kids), do a search for games or cards and refine your results to include only toys, kits and 3D objects
*If you are a distance education student we can post them out to you for free