Today, at 11am on the 11th day of the 11th month we observed a minute's silence to honour the memory of those who served their country and those who died in war.
The custom started with commemoration of the Armistice agreement that concluded the First World War, signed at Compiegne beteween the Allies and Germany at 11am on the 11th November 1918.
This year is significant as the centenary of the commencement of World War 1 and events will be held at war memorials across Australia and overseas.
At CSU Bathurst, the 1914-1918 Honor Roll commemorates 139 young men, students of the original Bathurst Experiment Farm, who served in the First World War. In 1923, the Honor Roll was installed in the Experiment Farm dining-room, now
the Ponton Theatre. It is now located on the plain brick wall of an
historic building known as the 'Cow Shed', Building 1298.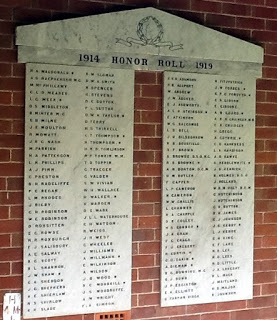 In Bathurst, 21 of those young men did not return to their agricultural studies at Experiment Farm.
The Australian War Memorial in Canberra is commemorating the 62,000 names that appear on the First World War Roll of Honour panels. In a solemn tribute, the recorded names are being read in the cloisters of the War Memorial until 2018. The Soundscape Project is still inviting public participation.
The impact of the First World War is highlighted in the Library's collections. Try a subject search in Primo, World War, 1914-1918 Participation Australian, to explore the loss, the bravery, the opportunities both at home and abroad.