It's Orientation Week and there is a LOT going on! We know you are busy meeting classmates and lecturers, settling into accommodation, finding your way around and participating in soooo many activities… but don't forget to visit to the Library! Classes start next week and learning how to access information is key to your success.
Many of you will take part in Library tours this week, which will get you off to a great start. Don't be afraid to visit any time – you can find us at the Ask Us! desk in all campus Libraries.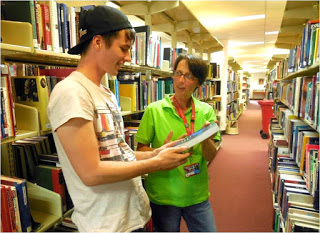 Here is Rover Janine helping a student find a book.
If you are at Bathurst or Wagga over the next few weeks, look for our Library Rovers. They're the ones in the bright green shirts, you can't miss 'em!
Library Rovers are ready to answer your Library questions from 10am-3pm weekdays until 11 March.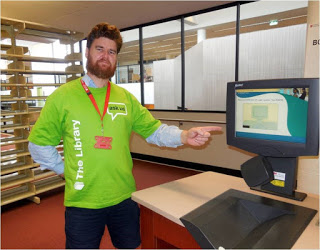 Here is Rover David pointing to Bathurst's self-check machine – he will even show you how to use it!
If you are studying by distance and live close to a campus, you are welcome too – come and soak up the O-Week vibes and visit us in the Library.