Have you noticed that the Learning Commons computers have been upgraded to windows 10? To make sure you're getting the most out of the new Windows experience, here are some new features and handy hints everyone can use!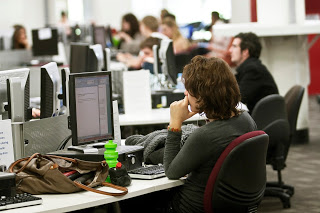 Logging Out
Logging out of Windows 10 is slightly different to Windows 7. All you need to do is open the start menu, click on your name at the top of the menu, then select "Log Out". It's that easy! But remember, learning commons computers and those in computing facilities will still log out automatically after 20 minutes of inactivity.
Printer Not Available
If you can't access a printer after logging in, try logging out and logging back in again. Sometimes there can be a delay for printers to load if the computer was switched off the last time it was used.
Start Menu
Applications installed on the computer can be found in the start menu under the "All Apps" section, and are listed in alphabetical order.
Changing the Language at Login
To change the language at login, you just need to click the language button you'll see in the bottom right hand corner. Alternatively, you can click on the username box where a drop down list will show the other languages available.
Web Browsing
Internet Explorer is the default web browser at CSU. You can also access the new Edge browser in the task bar.
Cortana
Cortana is available as a new way to search in Windows 10, and can be found in the start menu.
OneDrive
Due to the shared nature of teaching and public access computers, DIT is currently evaluating this service.