October is Defibrillator Awareness Month. The Cardiac Arrest Survival Foundation is promoting this month to raise awareness of how easy it can be to prevent deaths from the number of deaths caused by sudden cardiac arrest.
Sudden cardiac arrest is different from a conventional heart attack, where the person affected is likely to be conscious, although in pain. A cardiac arrest (massive heart attack) involves an interruption to the heart's electrical system, leading to unconsciousness, cessation of breathing and pulse. Cardiac arrests if left untreated can lead to death, but are treatable if defibrillation is done in time.
Find out more about Shoctober on the Cancer Arrest Survival Foundation website.
CSU's paramedic students receive intensive training on how to treat both conventional heart attacks and cardiac arrests so they know what to do on the job. The CSU Library has many information resources on cardiac arrest and paramedicine
Do you know what to do if you suspect someone close to you might be having a heart attack or cardiac arrest? Red Cross Australia and St John's Ambulance Australia both run nationally accredited courses.
Automated external defibrillators (AED) are located in many busy public places to be used in first aid to assist with manual CPR restarting the heart.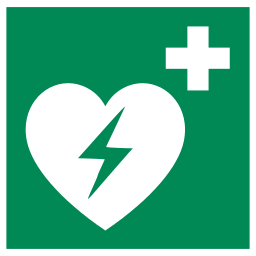 A typical AED sign
By MaxxL (Own work) [Public domain], via Wikimedia Commons
AEDs analyse hear rhythm, give voice commands and can deliver a shock if the heart has stopped beating, to shock the heart back into normal rhythm. Every minute without heartbeat reduces the chance of survival by 10%. The administration of AED on sudden cardiac arrest as soon as possible is a proven factor for survival. Watch the Survive in Five video below to see how they work.