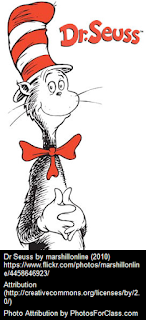 Hats off to Dr. Seuss!
March 2nd is Dr. Seuss's Birthday!
Did you know that Dr. Seuss would be 113 this year? While he is no longer with us – his legacy lives on through the pages in his books.
What a better way to celebrate than to take a look at all of the many Dr Seuss books in our children's collection! Our Children's Literature Resource Guide will help to get you started!
Bring back those childhood memories!