Last week CSU Library staff baked their way through a Cooking for Copyright shindig, to celebrate the new Copyright Amendment Bill that was passed through the Australian Parliament on the 19th of June this year.
The Amendment of this Bill has been pushed along by Librarians all over Australia, who wanted to raise awareness of our muddled copyright laws, and lobby for immediate reform. Librarians held the first
Cooking for Copyright
challenge back in 2015 – they took part in a huge act of civil disobedience by posting 35 handwritten recipes to the
FAIR
website. This act effectively contravened the copyright law at the time, and encouraged Australians to cook their way to tasty tasty law reform!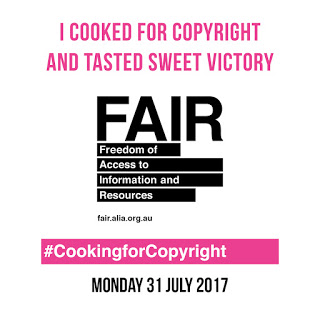 As a result of this amendment, millions of historical manuscripts – from celebrity letters and diaries held by the National, State and Territory libraries and archives, to the thousands of theses at our universities – will be simultaneously freed into the public domain on 1 January 2019.
If you'd like to join the celebrations, here are a couple of the recipes that were posted online, and cooked around Australia:
This is what your Revolutionary Librarians at CSU cooked up: