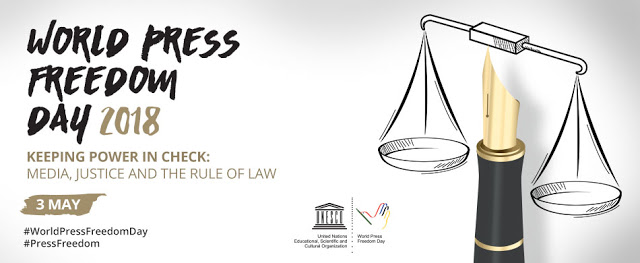 May 3rd is World Press Freedom Day, and was first observed by the UN General Assembly in December 1993. Since then, it has been celebrated every year, and is an opportunity for people around the world to:
Celebrate the fundamental principles of press freedom.
Assess the state of press freedom throughout the world.
Defend the media from attacks on their independence.
Pay tribute to journalists who have lost their lives in the line of duty.
The 2018 Theme for World Press Freedom Day is Keeping Power in Check: Media, Justice and The Rule of Law. This theme highlights the importance of an enabling legal environment for press freedom, and gives special attention to the role of an independent judiciary in ensuring legal guarantees for press freedom and the prosecution of crimes against journalists. The campaign underscores the importance
of access to information and journalistic
independence with this simple phrase:
Read more. Listen more. Understand more.
It all starts with a free press.
If you would like to find out more information about the state of the worlds Press, the Library has many eResources available in
Primo Search
, including:
If you would like to get involved in World Press Freedom Day, check out UNESCO's
Global Celebrations
web-page. If you have any trouble accessing the resources above, or would like help finding further resources, please
contact us
at the Library.