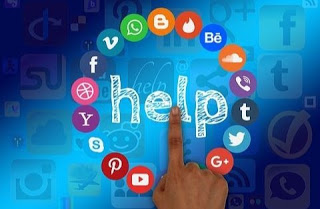 Technology has changed the way we do many things, and this includes the way in which we learn. Gone are the days when you had to take admission and attend classes to get a degree. Today, all you need is an unquenchable thirst for learning and a working internet connection, and you can literally learn anything online!
These changes in technology have meant that social media is now part of our everyday life, and when used correctly, social media can assist you in your studies as well as your professional career. If you are keen to 'learn to connect' in your studies and create an online professional profile, the Library is running online workshops on Developing your personal learning network, Managing your online information, and Securing your digital life. These three workshops cover a great range of topics, including:
Developing your Personal Learning Network (PLN) – July 31st, 1pm:

• The benefits of a PLN, and how it can keep your professional development up to date.
• How to connect with others in your profession/field of study.
• How to create accounts with three popular applications: LinkedIn, Twitter, and feedly.com.
Managing your Online Information – August 7th, 1pm:
• The OneNote and Pocket applications – how to use them for study, collaboration and to manage all the data coming your way.
• The legal issue of Copyright, and how you can re-use online material without getting into trouble!
Secure your Digital Life – August 14th, 1pm:
• Create a passphrase that would take years to crack, and use a password manager to securely store all your passwords.
• Prevent websites from harvesting your digital footprint for commercial gain;
• Use tips & techniques to keep your data as anonymous and confidential as possible.
If you would like to take part in any of these online library workshops, please
register now
. If you have any trouble registering, or have questions about attending the workshops, please
contact us
for help from one of our lovely Librarians.