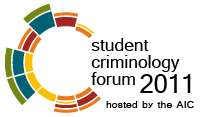 Are you studying criminology, police studies, corrections, law or a related field?
The Australian Institute of Criminology is hosting a free one-day forum for students studying criminology and related disciplines. The forum will give students the chance to hear from some of the Institute's leading criminologists in the areas of drug crime, trafficking, crime prevention, cybercrime and more.
The AIC Student Criminology Forum will be held on Wednesday, 6 July 2011, providing a rare opportunity for students to visit the Institute in Canberra, meet with leading researchers in the fields of crime and criminal justice and share the experience with other students from around Australia.
More information on this forum can be found AIC website