As part of the series of posts about interesting non-book
related resources to celebrate Think Outside the Book, today's focus is on Primal
Pictures.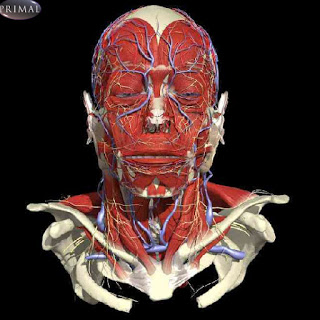 Primal Pictures is one of the most interesting visual
databases that CSU has. Primal pictures gives clear and detailed 3D pictures of
the human body that can be rotated with various layers added and removed as
required. Each bodily unit is stripped bare and the user selects different
layers to build up to a complete "whole". What makes Primal Pictures even more
useful is the ability to zoom in and out, take screen shots and download
individualised images to your own computer to create your own visual library.
Anatomical details can be labelled, bones, muscles, ligaments, nerves,
arteries, veins, organs, skin other parts included or excluded with one mouse
click. Depending on the Primal Pictures database selected users can also
additionally view slides, videos, animations and MRI scans.
There are four different Primal Pictures databases used at
CSU:
Primal Pictures 3D
Real-Time Viewer (3D human body).
This includes 11 modules, each
one representing a different 3D anatomical part of the body
Primal Pictures Anatomy
& Physiology Online.
This consists of 19 modules
containing 3D images and interactive models, narrated animations and
illustrations, dissection slides, clinical case studies, a guide to the impact
of ageing on that body system, pronunciation guide and quizzes
Primal Pictures Anatomy Plus
Platinum Package: Regional.
This database goes more into the
functions and biomechanics involved in human anatomy as well as surgical
procedures involved. Included are individual organs, anatomical systems and
body regions. Models show different layers, rotate, link to text information.
Also included are clinical videos, pathology slides, MRI scans, a study guide
and a test bank.
Primal Pictures Dentistry
(3D Head and Neck Anatomy for Dentistry)
The Dentistry component of Primal
Pictures features all the key anatomy involved in dentistry. MRI images, photographic slides, movies, animations,
and specialized clinical
content which includes 3D views of progressive dental conditions such as caries
and gingivitis, and interactive 3D nerve views of intraoral injections.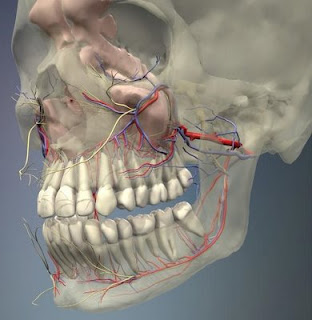 NB. If you have previously used Primal Pictures (the
full resource), you might find that the link to Primal Pictures Dentistry takes you to the
full resource. You will need to clear cookies to resolve this.
Enjoy the Library and Information Week 2012 – Think Outside
the Book.