Monday June 8th is a public holiday!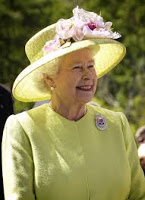 http://en.wikipedia.org/wiki/File:Elizabeth_II_
greets_NASA_GSFC_employees,_May_8,_
2007_edit.jpg
Our libraries will be open as normal on Saturday and Sunday, and open on Monday 1:30-5:00 pm at:
Albury, Bathurst, Orange and Wagga.
Phone and chat services will also be available 1:30-5:00pm (AEST) Saturday to Monday.
Dubbo library will be closed over the long weekend.
Ontario will be closed Saturday and Sunday and open 8am-4pm on Monday.
See the opening hours and exception dates
here
:
The library will be open as normal on Tuesday.