Near a campus and would like to print from your own device?
Students at Albury-Wodonga, Bathurst, Canberra, Dubbo, Goulburn, Orange, Wagga Wagga and Wangaratta Campuses can print from your own device to the multifunction devices (MFDs) in the Learning Commons on each campus.
Laptops (Windows, Apple, Linux, etc) and mobile devices such as tablets (Surface Pros, etc) and mobile phones can upload word, excel and pdf documents to myPrint to enable printing on the MFDs.
Printing is not supported from an iPhone or an iPad.
Standard printing charges apply.
You will need a 6 digit PIN set on your student card through the CSU Card Holder Portal or on the card reloader machines located in each Learning Commons before you can print, photocopy or scan at the MFDs.
To print from a mobile device/laptop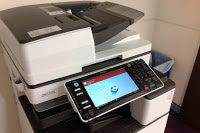 Go to http://www.csu.edu.au/csu-card/printcopyscan and click on the myPrint.csu.edu.au link at the top of the page.
Log in using your CSU credentials.
Select web print in the left hand menu.
Click on "submit a job" and follow the instructions.
Options (eg, page size, layout etc) must be chosen from your document as they cannot be changed at the printer or on myprint.
Jobs can be cancelled at the printer.
Jobs are deleted if not printed within 24 hours.
Students can print from their desktop computers off campus using myprint.csu.edu.au.