Looking for space to study in the Wagga Campus Library building? Now you can easily see when a room is available.
Not sure if you are in the right place at the right time? You can also see who has booked the room and what it is being used for.
The Division of Information Technology (DIT) is trialling a display screen mounted outside Room 1021, level 1 in the Wagga 24/7 Learning Commons zone. The display shows when the room is free for private study and when classes are scheduled.
The calendar header will display as green when available and turn red when the room is in use.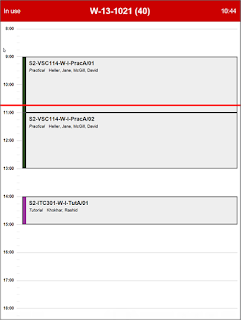 As this is a display only unit, touching the screen won't allow you to make room bookings. For ad hoc use – the room will still act on a first come, first served basis.
Please stop-by and check out the new display screen, is it easy/intuitive to use? What other functionality would you like to see?
Send your feedback to DITfeedbackpoc1@csu.edu.au by Friday 14 August.