Planning to apply for credit or a course transfer? The Credit Pathways Management (CPM) project team is pleased to announce the production release of the 'Credit and Pathways Planner' (CPP) module.
This module replaces the Application for Credit PDF form and allows you to:

Build your learning portfolio, assess and request credit *
Use your learning portfolio to submit a petition for credit
Track the progress of your petition(s)
You will find the Credit and Pathways Planner in the Admin widget on the Student Portal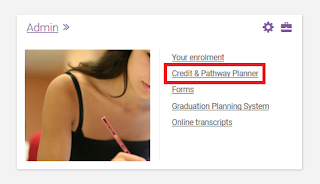 Alternatively you can access the CPP directly via the web address credit.csu.edu.au.
If you would like additional information or require further clarification on any aspect of the CPM project please reach out to the CPM project team.
* Credit is recognition of prior learning and is made up of previously undertaken or currently in progress awards, subjects, assessments or work experiences.