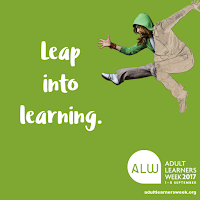 Did you know that 91% of CSU students are non school leavers? That's why we like to celebrate Adult Learners Week at the Library, and commit to supporting life long learning! ALW is celebrated from the 1-8 Sept., with many events and activities designed to promote the benefits of learning. There are so many opportunities to learn available in Australia, including right here at CSU!
Some of the many ways the CSU Library likes to support our Adult Learners include:
The Library also has great eJournals that investigate the topic of Adult Learning, some of these being:
If you'd like more information about Lifelong learning, why not take a look at the Adult Learning Australia website, or check out our Adult and Vocational Education Libguide for some great resources and links. Never stop learning!