A group of our librarians are currently engaged in a project to examine how CSU students use digital technologies and how this affects your online learning.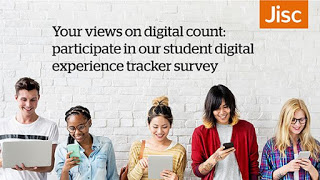 As part of the project we are using the Jisc Student Digital Experience Tracker. The Tracker is a new international survey that will allow us to:
Know more about how you study and learn online
Understand how you use the online learning environment and services and how we could improve
Target resources towards the issues that matter to you
Find out what helps you to succeed.
To make this project a success we need your help!
Complete the tracker survey
to let us know more about how you study and learn online.
If you have any questions about the survey or the project please
contact us
.