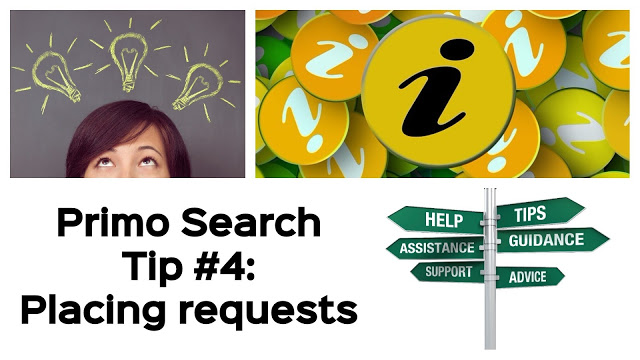 Have you had trouble placing requests since the Primo Search upgrade? If so, our next Primo Search Tip will answer all your questions!
As a CSU student you can have books delivered to your campus from most of our libraries, and if you're an online student, you can have items posted to your home address. You can also place digitisation requests for chapters or journal articles, and Library staff will scan the item and email you a PDF. All this is done by placing a request in Primo Search, and you can follow these easy steps to see how it's done.
Search for the title you are after in Primo Search, and once you've located your title click on the Available at link at the bottom of the record:
If you only need a chapter of your title click on the Digitisation link. Once you have filled in the relevant information, such as chapter name, click on the NEXT link, which successfully submits your request.

If you'd like to request the physical item click on the Loan link, and select the best Pickup Location for you. Online students can select the "Home delivery" option at this point. To submit your request, click on the NEXT link.
Once submitted, your request is ready to be worked on by your friendly CSU Librarians. Remember, if you try to log in to Primo Search, and can't see these request options, this usually means you haven't applied for your CSU card yet. Apply for your
CSU card now
to get full access to your Library resources, and if you're having trouble requesting items in Primo and would like more help, please
contact us
.