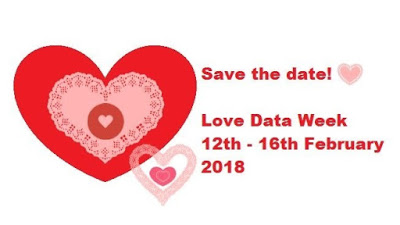 This year Love Data Week takes place between the 12th and 16th of February, and includes the auspicious Library Lovers Day, held on the 14th of February.
The purpose of Love Data Week is to raise awareness and build a community to talk about topics related to research data management, sharing, preservation and re-use. Love Data Week is also a time for Libraries to promote their research data services!
Love Data Week is a social media event coordinated by research data specialists, mostly working in academic and research libraries or data archives or centers. They believe research data are the foundation of the scholarly record and crucial for advancing our knowledge of the world around us. If you care about research data, please join in on one of their events!
The main topics being covered in this years Love data Week include:
This Wednesday we are also celebrating Library Lovers Day!
Australians love their libraries, with more than eight and a half million of us being library members who visit libraries around nine million times a month. So why not pop in to see your lovely local librarians this Library Lovers Day? you could have a blind date with a great book, or share with us what you love about our Library. If you're keen, you can join some of Australia's favourite authors and
write a love letter
to a library, which you can share on your social media channels.
The University Library, Research IT, and Berkeley Institute for Data Science will host a series of events on February 12th-16th during the Love Data Week 2018.
Love Data Week a nationwide campaign designed to raise awareness about
data visualization, management, sharing, and preservation.
Please join us to learn about multiple data services that the campus
provides and discover options for managing and publishing your data.
Graduate students, researchers, librarians and data specialists are
invited to attend these events to gain hands-on experience, learn about
resources, and engage in discussion around researchers' data needs at
different stages in their research process.
To register for these events and find out more, please visit: http://guides.lib.berkeley.edu/ldw2018guide
Schedule:
Intro to Scopus APIs – Learn about working with APIs and how to use the Scopus APIs for text mining.
01:00 – 03:00 p.m., Tuesday, February 13, Doe Library, Room 190 (BIDS)
Refreshments will be provided.
Data stories and Visualization Panel – Learn how data
is being used in creative and compelling ways to tell stories.
Researchers across disciplines will talk about their successes and
failures in dealing with data.
1:00 – 02:45 p.m., Wednesday, February 14, Doe Library, Room 190 (BIDS)
Refreshments will be provided.
Planning for & Publishing your Research Data –
Learn why and how to manage and publish your research data as well as
how to prepare a data management plan for your research project.
02:00 – 03:00 p.m., Thursday, February 15, Doe Library, Room 190 (BIDS)