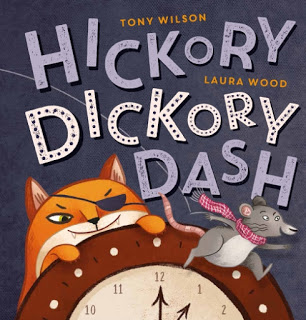 Yesterday was National Simultaneous Storytime (NSS) right across Australia, and CSU Library took part at our campuses by reading to local kids along with the rest of the nation.
National Simultaneous Storytime is held annually by the Australian Library and Information Association (ALIA) and is now in it's 18th year!. Every year a picture book, written and illustrated by an Australian author and illustrator, is read simultaneously in libraries, schools, pre-schools, childcare centres, family homes, bookshops and many other places around the country. The book chosen to be read for this years National Simultaneous Storytime was Hickory Dickory Dash, a fast paced cat and mouse romp written by Tony Wilson, illustrated By Laura Wood, and published By Scholastic Australia. This years book was a hit with all at CSU, with the reading and craft activities enjoyed by everyone!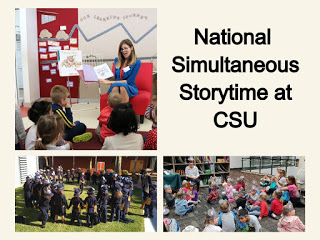 NSS is a colourful, vibrant, fun event that aims to promote the value of reading and literacy, story time activities in Libraries and Australian writers and publishers, using an Australian children's book. If you would like to borrow the CSU copy of Hickory Dickory Dash, it is now available through Primo Search, and if you are interested in learning more about children's literature, please check out our Children's Literature and Creative Writing Library Resource Guides. Remember, if you have trouble accessing any of these resources, please contact us at the Library. As you can see from the photo's, our CSU Librarians had a great time participating in this years National Simultaneous Storytime!