Welcome to Speech Pathology Week. Speech Pathology Week seeks to promote the speech pathology profession and the work done by speech pathologist. With more than 1.1 million Australians have an communication or swallowing disorder that impacts their daily life.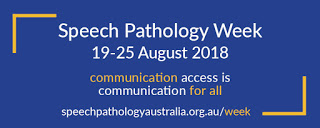 This year's theme is communication access is communication for all. The theme reinforces the important role that speech pathologist play in the lives of Australians with speech and swallowing disorders.
Are you interested in studying speech pathology? CSU offers a Bachelor of Speech and Language Pathology. In support of our students studying the Bachelor of Speech and Language Disorders, the library has made a Speech Pathology library guide.