Refugee Week in Australia is a great time to raise awareness about the issues affecting refugees around the world, and celebrate the positive and valuable contributions made by refugees to Australian society. Refugee Week coincides with the United Nations World Refugee Day, which occurs on June 20 every year.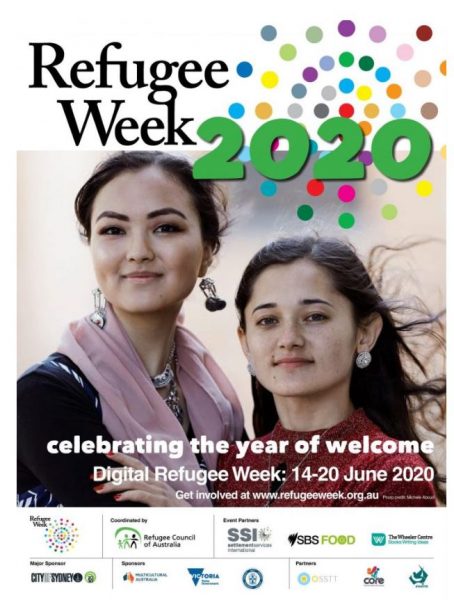 The focus of this years Refugee Week is Celebrating the Year of Welcome – Online. The first ever virtual Refugee Week has been developed to allow people to participate from home. This years theme promotes harmony and togetherness. It unites individuals, communities and organisations from many different backgrounds behind a common cause. The common theme is a reminder that, regardless of our differences, we all share a common humanity.
There are lots of free virtual events running that you can join in. Tonight is Global Storytelling Night. 4 individuals from all over the world will share their stories of "welcome" and "imagination".
Another exciting addition to this years event is "Share a meal, Share a story". This is a community fundraising initiative of the Refugee Council of Australia. You can create an event encouraging people to get together, share a delicious meal and share stories that help build empathy and understanding of refugee experiences
One of the main aims of Refugee Week is to educate the Australian public about who refugees are and why they have come to Australia, so in light of this the Library would like to share some of our great online resources:
Chasing asylum: Australia's treatment of refugees – This film examines the impact of Australia's offshore detention policies, and features never before seen footage from inside offshore detention camps.
From Boats to Businesses: The Remarkable Journey of Hazara Refugee Entrepreneurs in Adelaide – This report tells the story of Hazara refugee entrepreneurs in Adelaide. It is a story of hard work, determination, risk-taking and of overcoming what appear to be insurmountable barriers.
Journal of Refugee Studies – Providing a forum for exploration of the complex problems of forced migration and national, regional and international responses, this journal covers all categories of forcibly displaced people.
Asylum by boat: Origins of Australia's refugee policy – This important eBook is driven by the question of how we moved from a humanitarian approach to refugees and resettlement, to the policies of mandatory detention and boat turn-backs.
The Lhotsampa People of Bhutan : Resilience and Survival – This eBook provides insight into one of the world's quietest human rights abuses. The story of the Lhotsampa people describes their journey of coping and resilience, incorporating qualitative research undertaken in the refugee camps in Nepal and resettlement areas in Australia and elsewhere in the world.
As always, if you have any problems accessing these resources, or would like more information on this topic, please contact us at the Library.