Primo Search is being upgraded. Personal settings in Primo Search will not be migrated to the new version of Primo. You will be able to make a copy of your saved searches and tags & reviews, please do so before 19 June. All other settings will be lost.
Saved Searches
Searches saved for re-use or as alerts will not be migrated to the new version of Primo. Users who wish to retain details of complex searches should copy the details for later reference.
Login to Primo Search
Click on My Library Record
Click on Search History
Select 'Saved searches and alerts'
Click on the 'Search name', e.g. Blended or flexible learning, to run that Saved Search
Copy the search string, e.g. "higher education" AND (blended OR "flexible learning") and paste it into a Word or Pages (Mac) document for future reference. Taking a note of how the search results may have been refined.

Tags & Reviews
Tags & Reviews that have been added to records in Primo Search, will not be migrated to the new version of Primo. Records that have been assigned to a particular 'tag', e.g. MGT320_tutorial; library survey, will need to found, added to My Folder, and either:
Exported to EndNote
Printed / saved to PDF as a list*
Emailed to yourself as a list*
* will include links to records in Primo that will not work in the new version of Primo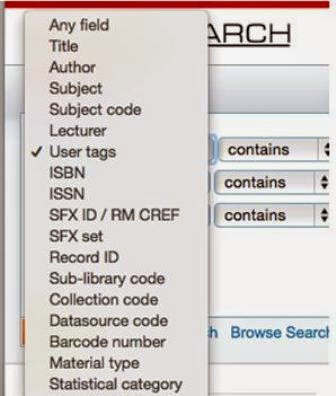 select User tags from drop down
Select Advanced Search
Use the drop down arrow to select Field = User tags
Conduct a search for User tags 'contains' ### (where ### = required tag)
Click on the 'folder' icon adjacent to the required records to add those records to 'My Folder'
Follow these instructions to save information about records in My Folder.
Read our blog series to save your Primo Information
Have any questions about saving your information or the Primo upgrade? Ask a Librarian